The Mazda3 & Mazdaspeed3 Big 3 Kit
NOW FOR SALE!!!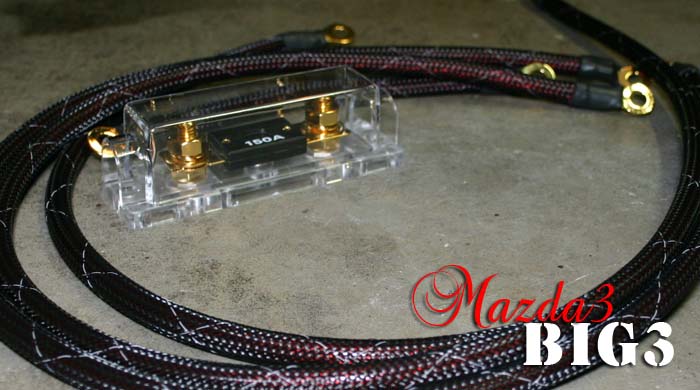 Mazda3 Big3 Kit
| | |
| --- | --- |
| | We use 3 durable wires made of BLACK jacketed PURE copper 4 AWG 100% made in the USA. Note that the picture has a RED hue, though now our wire and sleeve is a matching and stealthy looking BLACK on BLACK. (With the flame retardant diamond tracers) |
| | Included is a heavy duty 150A gold wafer fuse and fuse holder. |
| | Heavy wall adhesive lined heat shrink |
| | Non-fray black flame retardant braided sleeving. |
| | All ends are terminated with gold plated ring terminals |
MazdaSpeed3 Big3 Kit NEW!!!
| | |
| --- | --- |
| | The Mazdaspeed3 BIG3 kit includes additional 4GA wire to account for a different location of the alternator which is near the turbo manifold. This alternator positive wire safely routes over the engine in a more efficient manner than the stock power wire. Installation requires removal of the black plastic alternator cover/heat shield. Removal of the stock factory top mounted intercooler will assist in the installation of the Big3 Kit. |
There are three connections:
Alternator Positive to Battery Positive - This includes a 150A wafer style fuse and fuse holder.
Engine to OEM Chassis Ground
Battery Negative to OEM Chassis Ground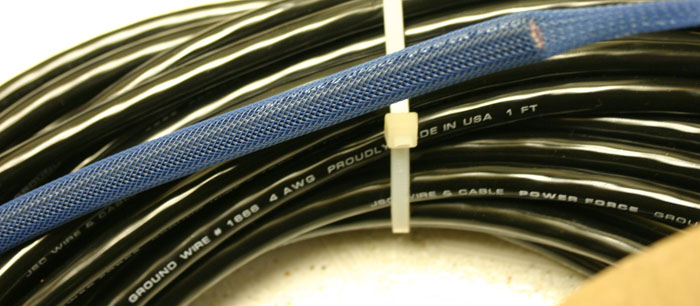 PICTURED ABOVE IS OUR ACTUAL WIRE.
We can put on any color sleeve via special request emails.
If you don't see a color combination, let us know and I'll add it to the shopping cart.
Yes, we can do color combinations such as Yellow sleeve over Orange sleeve.
| | |
| --- | --- |
| | What makes our black wires truly unique is the multi-stranded flame resistant sleeve protection. This protection has excellent cut through and abrasion resistance which is IDEAL for the harsh environment of an engine bay. To top that off it conforms to FMVSS 302 - Automotive Burn Test, passes FAR Part 25 flame test, and is UL and CSA registered to meet VW-1 and FT-1 flame tests. The sleeve itself is registered in NASA for low outgassing and resists chemicals and cleaning solvents with a melting temp of 445 deg F. |
| | The fitment is tested and I've taken the time to rotate the connectors so the wires go in how I intend them to go in. I also include instructions which leaves the guesswork out during installation. |
| | Terminations use electro-Gold plated ring terminals that are corrosion resistant and will not flake apart like cheaper gold coated terminals. Each connection is crimped with a commercial ratcheting crimping tool. |
| | Heat shrink tubing protects each termination and our tubing is heavy wall thickness lined with a thermoplastic adhesive. The result is a waterproof connection that has strain relief and adds abrasion protection. |
| | Our wire conductor is manufactured 100% in the USA and is true 4AWG unlike some offshore wires some of our competitors use. Our big3 utilizes solid copper conductors coated in protective tin that comprise our wire along with a red vinyl jacket that is gas, oil, and high temperature resistant. |
| | WE USE TRUE COPPER 4AWG, not STEEL or copper clad wire from many offshore brands. Our wire is 100% made in the USA. |
| | |
(Full online instructions for Mazda3 big3 Kit)
(Full online instructions for Mazdaspeed3 big3 Kit)
Description
SKU #
MSRP
SALE Price
Mazda3 Big 3 KIT (04-09)

Fits all years, hatch or sedan. 2.0L or 2.3L engine.

Black Flame Retardant Sleeving over black jacketed 4GA wire.

MZ3B3BL
$80.00
$65.00 ea + $10 S&H
Mazda3 BIG3 + Mazda3 Grounding Kit Black Flame Retardant COMBO
MZ3GKB3BK
$165.00
$95.00 ea + $10 S&H

(SAVE W/ COMBO)

MAZDASPEED3 (07-09)
Mazdaspeed3 Big 3 KIT (07-09)

Black Flame Retardant Sleeving over black jacketed 4GA wire.

MSP3B3BK
$105.00
$67.00 ea

COLORS
Special Color Request (Allow 1-2 weeks extra)

Mazdaspeed3 BIG3 + Mazdaspeed3 Grounding Kit Black Flame Retardant COMBO

LIMITED TIME ONLY INTRODUCTORY PRICE

MS3GKB3BK
$175.00

$100 SHIPPED!!!

COLORS
Special Color Request (Allow 1-2 weeks extra)

SHIPPING via USPS with Tracking
Shipping
$5-10
$5-10 ea