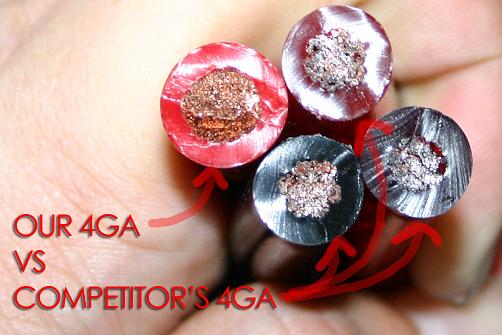 RECENTLY WE HAVE CONFIRMED THAT MANY EBAY, ONLINE, AND LARGE CHAIN STORES ARE SELLING FAUX GAUGE WIRES TO SCAM PEOPLE LIKE MYSELF!!!
Here is how to spot a false gauge wire:
1. The wire has an extra thick translucent jacket - what this does is create an optical illusion that the conductor is larger than what it really is. The translucent jacket acts as a magnifying glass that makes the conductor appear THICK. One TRUE way to determine if a wire is legit is to view the cross section as shown above.
2. Once you find the cross section you can now determine if the wire is copper or copper clad. Just look at the ends of the conductor for shiny silver and you'll know you've probably got copper clad wires. What's sad is a majority of wires in peoples cars come from offshore factories which coat the cheapest steel wire with poor quality copper. (You get what you pay for!)
3. You can also immediately tell a wire is fake if you compare the weight of the spool. A 100 foot spool of 4ga should weigh about 20lbs. Remember that you can't compare wire widths because manufacturers will make their wire jackets extra thick to compensate for the smaller conductor! Although you can't tell if you're getting steel or copper by weight, at least you'll know your getting the right size conductor!
4. The price - A fair "consumer" price for 4ga is $2 per foot. A fair price for 8ga is about $1 per foot. 2ga = $3.50/ft. and so on... So if you think you discovered some secret website that sells 4ga for $0.60 per foot... Well you're most likely going to get 8ga steel wire coated in cheap copper in a thick translucent jacket. Yeah it's happened to me... I know a lot of companies selling wires that are just doing it for money and they will buy 250' rolls of wire for $60 and pass it off as 4GA!!
CONCLUSION -
Please research your wires before you buy. If you think you are running 4ga when in reality the wire performs worse than 8ga, well not only will you not be receiving maximum power transfer... But if you run TOO much power for the wire to handle, the wires may heat up and/or cause damage to your components. If you do buy from another supplier please shop very careful for the safety of your vehicle and yourself.
-A MESSAGE FROM FLEX-INNOVATIONS