AMPLIFIER KITS - NEW
High end Car Audio Amplifier Kit featuring for the DIY car audio installer. NO CRIMPING NECESSARY if amplifier or distribution block accepts bare wire ends. Extra long lengths of wire and RCA's allow for maximum flexibility of car audio installations. 24K Gold plating on all components for maximum corrosion resistance and conductivity.
This kit was designed to include everything you need to install a car audio power source such as an amplifier, capacitor, or distro.
Please note: Some people may want to run the power wire through sheet metal in their firewall, in which case they may make their own or buy a firewall bushing. Some may have luck running the power wire through an existing wire grommet or empty clutch plate. The sleeve will do an excellent job at resisting abrasion though I would not recommend drilling a hole through sheet metal and running the wire through that hole without some sort or plastic or rubber protection around the wire.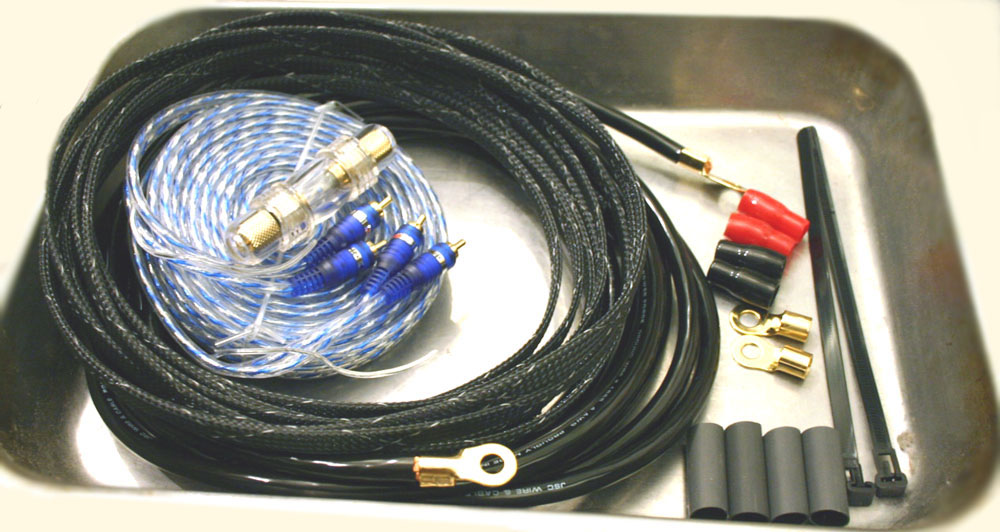 Amplifier Kit Includes:
| | |
| --- | --- |
| | 18 feet of 100% USA made 4 AWG copper wire |
| | 20 feet of Flame Retardant Braided Sleeve (sized to fit the 4 AWG copper wire) |
| | 20 foot Oxygen-Free twisted RCA audio interconnect with Gold Plated RCA's and Remote AMP turn on wire. |
| | Waterproof Gold plated 60 Amp fuse with fuse holder. (Includes 1 extra fuse) |
Included Installation Accessories:
| | |
| --- | --- |
| | 4 Vinyl slip on boot jackets for color coding wire. (Red for Power, Black for Ground) |
| | 4 adhesive lined heavy duty heat shrink pieces. (Optional for terminating bare wire ends and covering sleeve) |
| | 2 releasable cable ties |
| | 1 each 3/8" large gold plated ring terminal "pre-crimped" to one end of the wire to act as the chassis ground. |
| | 1 each 5/16" gold plated ring terminal "pre-crimped" to the other end of the wire to connect to the battery terminal. |
| | 2 extra 5/16" gold plated ring terminals for soldered or crimped connections to 4 AWG wire. |
Installation Notes:
For best results, I recommend using a candle or lighter with open flame to lightly MELT the ends of the braided sleeve so that they do not fray after being cut.
First you want cut the wire so that you have one long piece that will reach from your battery positive terminal to your amplifier (Or capacitor or distribution block). The remaining wire may be used to ground the amplifier to the nearest chassis ground with either an existing bolt from a seat belt, or adding a new star ground. Either way, make sure your ground is solid as this is the failure point of many installations. Do not drill straight down without knowing what's behind the sheet metal as you may in fact drill directly into the fuel tank.
Next you will also add a fuse maybe a foot from the battery on the power wire. Once the wire has been cut, slide on the sleeve and cut the sleeve and burn the ends so they don't fray. The trick with the fuse is you want the two plastic twist-on caps to be over the sleeve which is over the wire as seen below. Then melt the sleeve so that it builds up a small LIP, then the sleeve will stay put once the fuse is re-assembled. (Optional is to use the included adhesive lined heat shrink tubing, and melting it with a candle/lighter or heat gun)

Recommended Sleeve to fuse connection

Finished product