Exhaust manifold gasket blank
MR. GASKET 5961 ULTRA SEAL
Dimensions 4"x6" Rectangle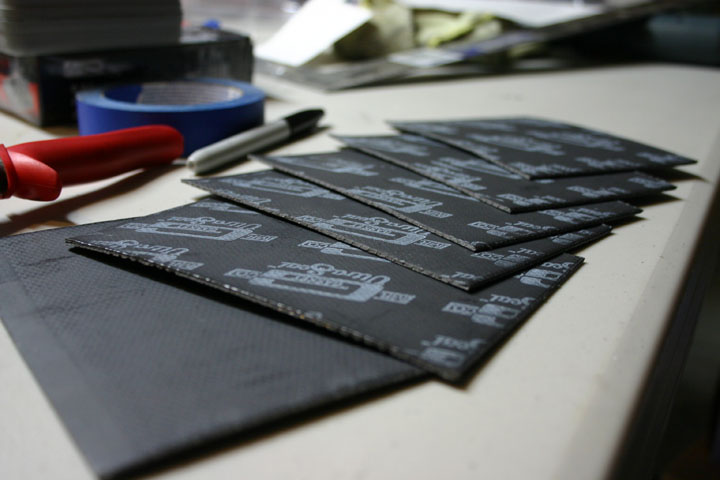 Instructional Walkthrough for your own CUSTOM gasket:
| | |
| --- | --- |
| | 4"x6" Gasket |
| | Trace Pattern on Gasket |
| | Punch Holes. If you don't have a punch and die set, then use a drill or hole puncher. |
| | Test Fit and make sure the holes are large enough for the gasket to expand slightly. Gasket must not buckle, bow, or stretch. |
| | Cut two starter holes for the large diameter circles. |
| | Use Red handled tin snips to cut the large exhaust holes. |
| | Completed Gasket |
| | Test fitment, trim till the inside (exhaust flow area) is FLUSH. The outside can and should have excess. |
| | Mr. Gasket 5961 is synthetic high temperature self extinguishing material with a perforated metal mesh on the inside. It is a fine upgrade to any stamped OEM gasket. |
I encourage you to buy your gaskets online if buying large gaskets, but if you require a smaller gasket then we sell 4"x6" blank gaskets so you don't have to spend an arm and a leg on gaskets + shipping from other online vendors.
Mr Gasket Ultra Seal 5961
Price $7 Shipped to USA
This gasket has been used on a catless Vibrant header since 2008 and there hasn't been a single sign of failure or leak.
We ship this gasket via USPS firstclass in a bubble wrap envelope so don't expect overnight shipping for a price of $7 shipped. Thanks
ORDER THIS GASKET ONLINE

Mr Gasket Ultra Seal 5961

Price $7 Shipped to lower 48 States. International orders please email us prior to ordering so we can calculate if it will cost extra to ship to your country. Thanks