100% Made in USA

JDM Design
FI Supports:

Now available 04-09 Mazda RX-8 Grounding kit.
Below is our sponsored RX-8 Vehicle: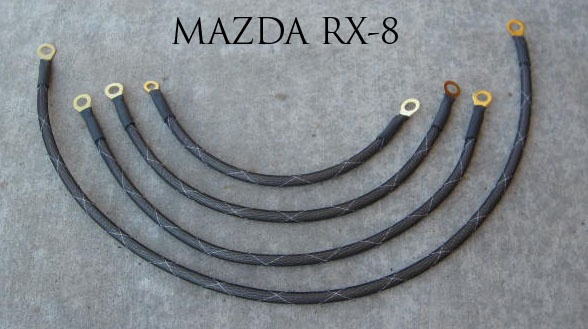 4-WIRE premium Grounding kit with Limited Time Group buy pricing and FREE shipping anywhere in the world.

RX8club.com exclusive price.

Compare to the normal pricing of grounding kits (Mazda and Subaru) is $40 + $5 shipping and handling OR MORE.

Pictures of these wires do not do them justice, they look and feel like $100 boutique audiophile interconnects.
Here are some details that explain why FLEX grounding kits are the best factory direct wire on the market:
| | |
| --- | --- |
| | FI now offers NEW colors. Although not flame resistant like the black wire with diamond tracers, our new colors still offer superior abrasion protection, and a melting temp of 445 deg F. |
| | What makes our black wires truly unique is the flame resistant sleeve protection. This protection has excellent cut through and abrasion resistance which is IDEAL for the harsh environment of an engine bay. To top that off it conforms to FMVSS 302 - Automotive Burn Test, passes FAR Part 25 flame test, and is UL and CSA registered to meet VW-1 and FT-1 flame tests. The sleeve itself is registered in NASA for low outgassing and resists chemicals and cleaning solvents with a melting temp of 445 deg F. |
| | The fitment is tested and I've taken the time to rotate the connectors so the wires go in how I intend them to go in. I also include instructions which leaves the guesswork out during installation. |
| | Terminations use electro-Gold plated ring terminals that are corrosion resistant and will not flake apart like cheaper gold coated terminals. Each connection is crimped with a commercial ratcheting crimping tool. |
| | Heat shrink tubing protects each termination and our tubing is medium wall thickness lined with a thermoplastic adhesive. The result is a waterproof connection that has strain relief and adds abrasion protection. |
| | Our wire conductor is manufactured with the help of Phoenix Gold and is a TRUE 8AWG unlike some offshore wires some of our competitors use. There are over 700 strands of copper coated in protective tin that comprise our wire along with a translucent jacket that is gas, oil, and high temperature resistant. |
| | Grounding point locations include chassis near right front strut, two engine points, both fuel rail mounting bolts, throttle body, and negative battery terminal. |
Choose the BLACK sleeve for our diamond tracer flame retardant grounding wires.
INTERNATIONAL ORDERS OUTSIDE NORTH AMERICA PLEASE EMAIL US PRIOR TO PURCHASE
For reviews, please search rx8club.com. This is a new product as of 12-4-08.
This is a member's car who has an 06 Shinka RX-8 (Galaxy Gray I believe). He apologizes for the dirty engine bay.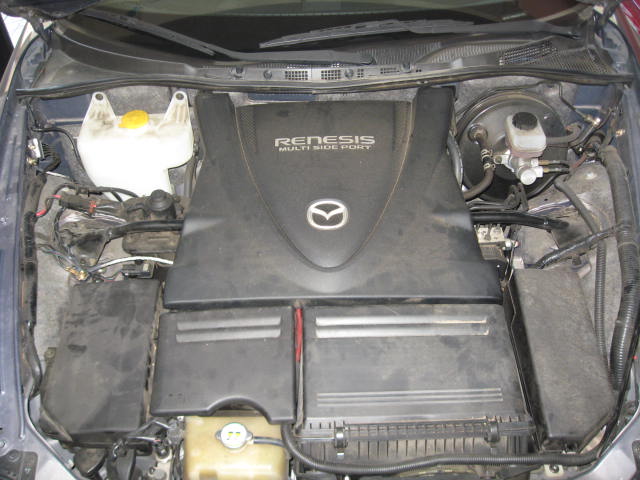 We use 8GA premium wires to ground the ALTERNATOR, THROTTLE BODY, BATTERY NEG, and TWO chassis locations where OEM grounds exist.
Designed to improve drivability and to smooth your throttle response.
(Note: The red wire in the picture is not a part of our grounding kit)
The kit includes FULL COLOR instructions. Installation is a breeze since all grounding points are readily accessible just by popping the hood and removing some plastic covers.