100% Made in USA

JDM Design
FI Supports:

SUBARU
IMPREZA 2008-2009 5-WIRE GROUNDING KIT
Premium 8 AWG wire, electro gold plated ring terminals, adhesive line medium duty heatshrink, and black diamond flame retardant braided sleeving.
Also available in a variety of colors.
Model Fitted in picture is a 2008 Subaru Impreza (non-turbo). Use your best judgement to determine if the kit will fit your car. We are in the process of clarifying what models have the same engine layout as our test car.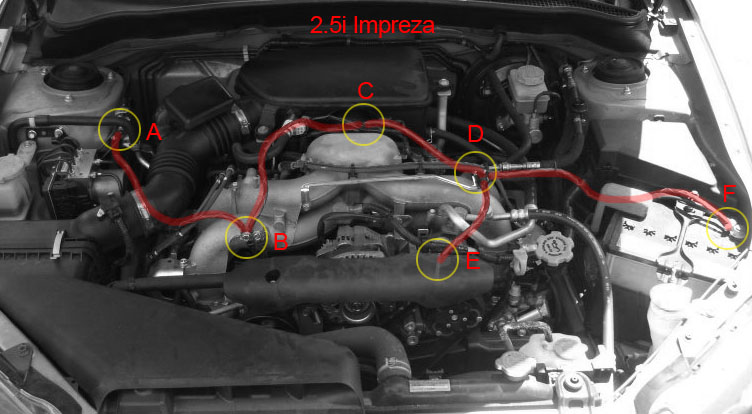 ABOUT THE WIRES:
I've heard many complaints of engine jerkiness and abrupt throttle response at low speeds from various people. I believe something like that is related to an ECU tune, however I believe that the grounds of most automobiles can be improved.
Now, I'm not going to make any false claims that my grounding kit will cause miracles; however I will note that two co-workers of mine with WRX's noticed a slight increase in MPG after installing my kits. Although the wires did not eliminate the jerkiness completely, we found that it does improve the overall electrical efficiency of the car and you'll notice a few minor improvements here and there. If you really want to get into detail, then just do a "GOOGLE" search for "Grounding Kits" and you'll see what other companies have already claimed.
I won't claim anything crazy, but I will claim that my grounding kit spares no expense and will outperform any grounding kit on the market. This is for certain because we not only take pride in the hand assembly of each wire, but my audiophile background demands my wires have high levels of craftsmanship and design.
Here are some details that explain why FLEX grounding kits are the best factory direct wire on the market:
| | |
| --- | --- |
| | What makes our wires truly unique is the flame resistant diamond tracers. This protection has excellent cut through and abrasion resistance which is IDEAL for the harsh environment of an engine bay. To top that off it conforms to FMVSS 302 - Automotive Burn Test, passes FAR Part 25 flame test, and is UL and CSA registered to meet VW-1 and FT-1 flame tests. The sleeve itself is registered in NASA for low outgassing and resists chemicals and cleaning solvents with a melting temp of 445 deg F. |
| | The fitment is flawless and I've taken the time to rotate the connectors so the wires go in how I intend them to go in. |
| | Terminations use electro-Gold plated ring terminals that are corrosion resistant and will not flake apart like cheaper terminals. Each connection is crimped with a commercial ratcheting crimping tool followed by the use of high quality 60/40 solder via a Weller soldering station. |
| | Heat shrink tubing protects each termination and our tubing is medium wall thickness lined with a thermoplastic adhesive. The result is a waterproof connection that has strain relief and adds abrasion protection. |
| | Our wire conductor is manufactured with the help of Phoenix Gold and is a TRUE 8AWG unlike some offshore wires some of our competitors use. There are over 700 strands of copper coated in protective tin that comprise our wire along with a translucent jacket that is gas, oil, and high temperature resistant. This combination is flexible yet not like a limp noodle like some wires. |
| | Grounding point locations include left and right intake manifold, throttle body, negative battery, alternator and chassis. Detailed Instructions included along with RE-USABLE cable ties for a secure installation. |
The pictures most definitely do not do them justice. I'd compare them to have a similar look to those audiophile "boutique" cables that sell for hundreds of dollars.
ORDER ONLINE NOW
(Click "add to cart")
SHIPPING IS ONLY $5 ANYWHERE IN THE USA INTERNATIONAL ORDERS OUTSIDE NORTH AMERICA PLEASE EMAIL US PRIOR TO PURCHASE
Description
SKU #
MSRP
SALE Price
Subaru Grounding Kit (Select Model from Drop Down Menu)
SUBARUGK
$67.00
$35.00 per kit

Select Make/Model
Name Color

Subaru VALUE Grounding kit. (No sleeve included)
SUBARUGB
$40.00
$30.00 per kit

Select Make/Model
Comments
Assortment of available colors:
(If you would like Chrome or Silver, please email for availability)