100% Made in USA

JDM Design
FI Supports: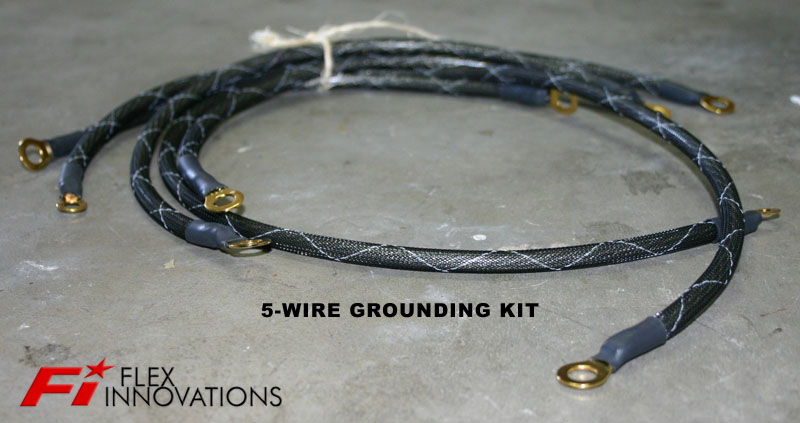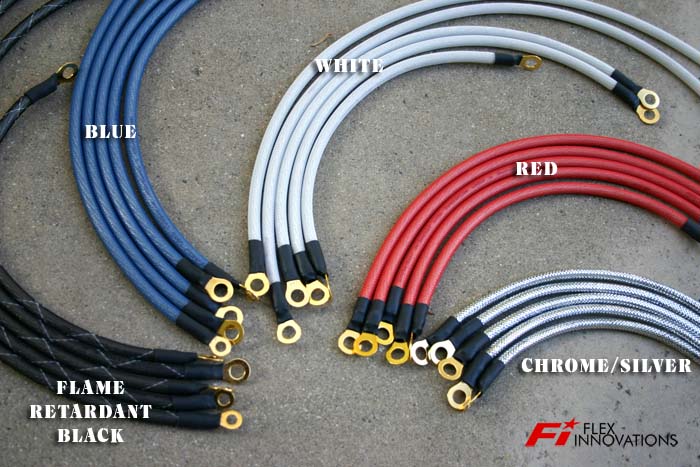 Description:
These grounding kits get great reviews and people are always surprised that they look and feel so great in person.
I take pride that I hand assemble each and every kit with quality materials. We are currently the only company actually hand wrapping our grounding kits in stylish yet protective sleeving. This adds both functionality improving the grounding system, as well as a custom aftermarket wiring appearance.
Full ONLINE instructions are available. Each kit ships with 2 re-usable zip ties, and full color instructions.
Please Note: Carbon, Canary Yellow, Glow Green, Glow Blue, and Lambo Orange are limited in availability. Our bright and glow colors react and glow under ultraviolet light but do not glow in the dark.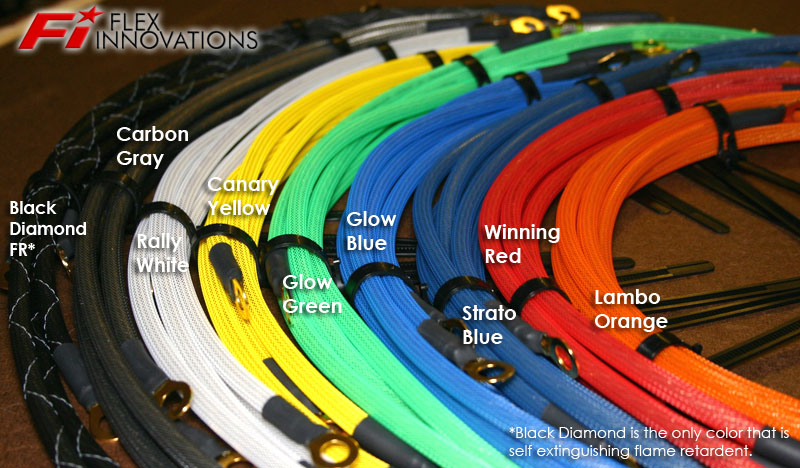 Here are some details that explain why FLEX grounding kits are the best factory direct wire on the market:
| | |
| --- | --- |
| | FI now offers NEW colors. Although not flame resistant like the black wire with diamond tracers, our new colors still offer superior abrasion protection, and a melting temp of 445 deg F. |
| | What makes our black wires truly unique is the flame resistant sleeve protection. This protection has excellent cut through and abrasion resistance which is IDEAL for the harsh environment of an engine bay. To top that off it conforms to FMVSS 302 - Automotive Burn Test, passes FAR Part 25 flame test, and is UL and CSA registered to meet VW-1 and FT-1 flame tests. The sleeve itself is registered in NASA for low outgassing and resists chemicals and cleaning solvents with a melting temp of 445 deg F. |
| | The fitment is tested and I've taken the time to rotate the connectors so the wires go in how I intend them to go in. I also include instructions which leaves the guesswork out during installation. |
| | Terminations use electro-Gold plated ring terminals that are corrosion resistant and will not flake apart like cheaper gold coated terminals. Each connection is crimped with a commercial ratcheting crimping tool. |
| | Heat shrink tubing protects each termination and our tubing is medium wall thickness lined with a thermoplastic adhesive. The result is a waterproof connection that has strain relief and adds abrasion protection. |
| | Our wire conductor is manufactured with the help of Phoenix Gold and is a TRUE 8AWG unlike some offshore wires some of our competitors use. There are over 700 strands of copper coated in protective tin that comprise our wire along with a translucent jacket that is gas, oil, and high temperature resistant. |
| | Grounding point locations include chassis near right front strut, two engine points, both fuel rail mounting bolts, throttle body, and negative battery terminal. |
ORDER ONLINE NOW
ALL MAZDA3 GROUNDING KITS Fit all years, hatch or sedan. 2.0L or 2.3L engine.
We have confirmed fitment on 2010 Mazda3 sedan and hatches, 2.5L engine and 2.0L.
(Click "add to cart")
INTERNATIONAL ORDERS OUTSIDE NORTH AMERICA PLEASE EMAIL US PRIOR TO PURCHASE
Description
SKU #
MSRP
SALE Price
Mazda3 Grounding KIT (Flame Retardant Black) <- Most Popular

$40 SHIPPED!!! (SALE PRICE)

MZ3GKBL
$65.00
$40.00 ea
Mazda3 Grounding KIT (Red, Blue, or White)
MZ3GKCL
$68.00
$42.00 ea
Mazda3 Grounding KIT (Canary Yellow, Glow Green, Glow Blue, Lambo Orange, Carbon)
MZ3GKBC
$73.00
$45.00 ea
Mazda3 Grounding KIT (Chrome/Silver Mylar)
MZ3GKCR
$72.00
$44.00 ea
Mazda3 BIG3 + Grounding Kit Black Flame Retardant COMBO
MZ3GKB3BK
$154.00
$95.00 ea + $10 S&H
SHIPPING via USPS with Tracking
Shipping
$5-10
$5-10 ea
Lower 48 States
HouRman