100% Made in USA

JDM Design
FI Supports:

MAZDA6 and MAZDASPEED6
(under construction If you are on this page, then you found it through MOCC or 6crew.)
Description:
These grounding kits get great reviews and people are always surprised that they look and feel so great in person.
I take pride that I hand assemble each and every kit with quality materials. We are currently the only company actually hand wrapping our grounding kits in stylish yet protective sleeving. This adds both functionality improving the grounding system, as well as a custom aftermarket wiring appearance.
Each kit ships with a re-usable zip ties. Instructions available online.
Please Note: Carbon, Canary Yellow, Glow Green, Glow Blue, and Lambo Orange are limited in availability. Our bright and glow colors react and glow under ultraviolet light but do not glow in the dark.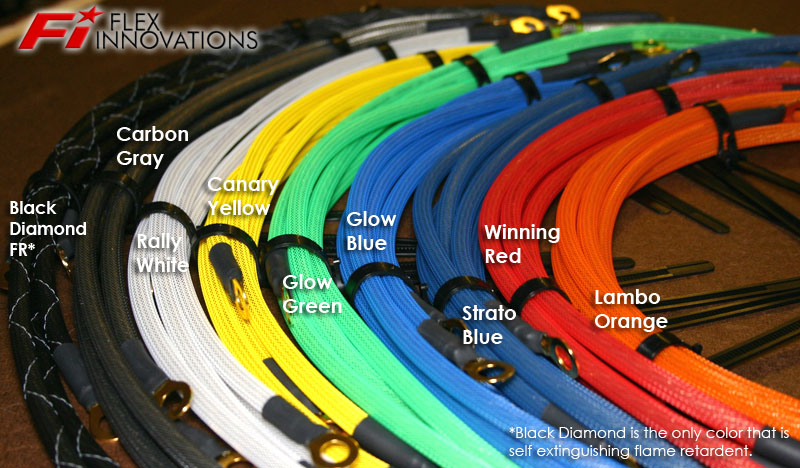 Here are some details that explain why FLEX grounding kits are the best factory direct wire on the market:
| | |
| --- | --- |
| | FI now offers NEW colors. Although not flame resistant like the black wire with diamond tracers, our new colors still offer superior abrasion protection, and a melting temp of 445 deg F. |
| | What makes our black wires truly unique is the flame resistant sleeve protection. This protection has excellent cut through and abrasion resistance which is IDEAL for the harsh environment of an engine bay. To top that off it conforms to FMVSS 302 - Automotive Burn Test, passes FAR Part 25 flame test, and is UL and CSA registered to meet VW-1 and FT-1 flame tests. The sleeve itself is registered in NASA for low outgassing and resists chemicals and cleaning solvents with a melting temp of 445 deg F. |
| | The fitment is tested and I've taken the time to rotate the connectors so the wires go in how I intend them to go in. I also include instructions which leaves the guesswork out during installation. |
| | Terminations use electro-Gold plated ring terminals that are corrosion resistant and will not flake apart like cheaper gold coated terminals. Each connection is crimped with either a commercial ratcheting crimping tool or industrial hydraulic crimping machine. |
| | Heat shrink tubing protects each termination and our tubing is medium wall thickness lined with a thermoplastic adhesive. The result is a waterproof connection that has strain relief and adds abrasion protection. |
| | Our wire conductor is manufactured with the help of Phoenix Gold and is a TRUE 8AWG unlike some offshore wires some of our competitors use. There are over 700 strands of copper coated in protective tin that comprise our wire along with a translucent jacket that is gas, oil, and high temperature resistant. |
ORDER ONLINE NOW
(Click "Buy now after specifying color")
INTERNATIONAL ORDERS OUTSIDE NORTH AMERICA PLEASE EMAIL US PRIOR TO PURCHASE
MAZDASPEED6 GROUNDING KIT (07-09')

NEW ADDED 3-24-10!!

VISIT MOCC FORUM FOR A WALKTHROUGH:

http://www.moccforums.com/forums/index.php/topic,19288.0.html

Please note that the kit in the following picture is a prototype kit and the lengths and ring terminal sizing has recently been revised for a better fit. Prototype kit also has 3M PE heat shrink and is different than the heavier duty adhesive lined heat shrink we use.

Better Instructions will be soon to come. For now if you are one of the first buyers you will have to use the pictures on the left to install your kit.

WE NEED YOUR SUPPORT so If you help make a walkthrough and post it on a Mazda6 related forum, we will host that walkthrough on this website, and will credit you $10 back to your paypal account.

Prototype Kit Info:

- From the negative terminal I have grounded to body, to the front left intercooler bolt (under the shroud) for manifold ground, to a bolt horizontal bolt just in front of the VC beside the crank, from there back to body.


The grounding spot to the bolt just beside the crank and VC to the left

Was able to run all lines around the front, instead of behind above the exhaust manifold/turbo to ensure that lines did not have to endure extreme heat.

PLEASE specify the color you want. Acceptable colors are: Flame retardant Black, Carbon Gray, White, Red, Blue, Neon Blue, Neon Green, and Neon Orange.

Please allow at least 2-3 days for assembly, and 5-7 days for shipping. Though in most cases it only takes 3 days for orders in the lower 48 states.

LIMITED TIME BUY BUTTON: $35 SHIPPED USA OR CANADA

Normal price will be $45 shipped. I created the button above on 3-24-10 and
MAZDA6i Grounding Kit (Any 2.0L similar to the model made in 2005)
This kit looks almost identical to the Mazda3 grounding kit so if you'd like to see pictures, then please go HERE.
The Lengths for the Mazda6i are slightly different, but the installation is basically the same so for time and budget sake you can look at the Mazda3 instructions online.
If you'd like to be one of the first persons to order a mazda6i and actually send us pictures of your install and better yet, a walkthrough, we will refund you $10.
PLEASE specify the color you want. Acceptable colors are: Flame retardant Black, Carbon Gray, White, Red, Blue, Neon Blue, Neon Green, and Neon Orange.
$35 SHIPPED USA OR CANADA
MAZDA6S Grounding Kit (Any V6 similar to the model made in 2006)
NEW ADDED 9-29-10!!
PRESALE PRICING $35 SHIPPED TO NORTH AMERICA.
$35 SHIPPED LIMITED TIME
COMPLETE INSTRUCTIONS (PLEASE REVIEW TO DETERMINE PROPER FITMENT)
PROTOTYPE CAR WAS 2005 Mazda6S V6.
Colors
Specify Custom Color
$12 SHIPPED USA OR CANADA (Throttle Body Grounding Wire ONLY)